What is Geography?

Geography is everything! I challenge you to open a daily newspaper or catch the latest news update and NOT come across some item which is Geography related.

In very broad terms, Geography teaches our pupils about the Earth's places, peoples, environments and societies. At the core of the subject lies the understanding of the relationships and impacts between people and the environment. It helps us to understand how our actions can have huge impacts on the world and its people. It recognizes the great differences in cultures, political systems, economies, landscapes and environments across the world and the links between them. The topics studied encourage learners to become global citizens, giving them the opportunity to explore their place in the world, their values and their responsibilities to other people.

The Geography Department's key objective is to broaden our student's horizons and to get them to think about the world in a different way. Geography inspires students to learn about people and places, and whilst doing so, helps to develop a wide range of desirable skills which makes Geographers highly employable.

In 2019, the Geography Department is embarking on an exciting expedition to Iceland to explore the wonders of the world we live in. Our students will be stood on plate boundaries, will visit volcanoes, see some of the most majestic waterfalls the world has to offer, see geysers, visit spa's and much more!

Geography as a National Curriculum subject is taught to all students up to Year 8. After that, students can opt to study the subject at GCSE level.
Develop student's skills in:

The analysis, interpretation and evaluation of geographical data and the ability to construct well-reasoned arguments.

Making sense of a wide range of geographical information including a wide range of graphs, maps and atlas' which are integral in a range of jobs.

Literacy such as extended writing pieces, the creation of reports and geographical investigations. Numeracy is developed through the manipulation of a wide range of data and graphical forms of data presentation.

Problem-solving and decision-making.
Geography is taught in four specialist rooms. Our department is well resourced with the latest textbooks, revision guides and study material. We have access to our own bank of laptops which are used to find out about places around the world.

Our Staff:
Mr C McGarry                           Mrs J Hitchmough
Director of Subject                     Teacher of Geography
Year 12 form tutor                      UCAS Co-ordinator

Miss S Moss                             Mr J Halewood
Teacher of Geography              Teacher of Geography and Iceland Trip Leader
Year 9 Form Tutor                     Year 10 Form Tutor
Students have two lessons of 60 minutes each week.
The topics studied address both the key ideas and issues that face us all in a rapidly changing world. The topics selected allows us to develop a strong and balanced understanding of the key human and physical processes in the world.

Units in Year 7 – Exploring the UK, Poverty and Pennies (Development), Coasts, Global Resources and Weather and Climate.

Units in Year 8 – Rainforests, The Population Debate, Our Restless Earth (Tectonic hazards), Raging Rivers, Local field work enquiry.
Geography is very popular at GCSE which reflects the enthusiasm that our students have for the subject. We have a core group of students with a passion for the subject and many then return to study the subject at A-Level.

Our current GCSE students follow the new AQA Geography syllabus. This includes three components:

Unit 1 – Living with the Physical Environment: The Challenge of Natural Hazards, The Living World and Physical Landscapes of the UK.

Unit 2: Challenges of the Human Environment – Urban Challenges, The Changing Economic World and The Challenge of Resource Management.

Unit 3: Geographical Applications: Issue Evaluation and Fieldwork (exam questions based on two pieces of fieldwork – 1 physical and 1 human fieldwork question).

The final examinations: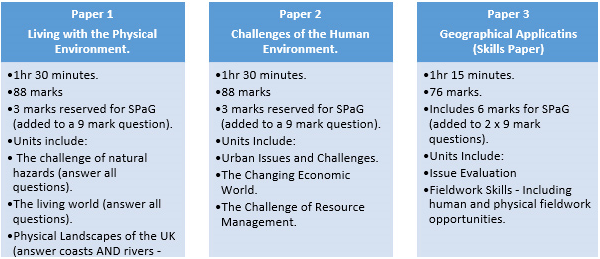 The Geography Department is determined in its support of our students throughout GCSE. The department holds regular support sessions and offers a range of intervention sessions to help our students maximise their potential in the subject.

For more information please contact Mr McGarry on 0151 541 9440.