What is Geography?

Geography is everything! I challenge you to open a daily newspaper or catch the latest news update and NOT come across some item which is Geography related.

In very broad terms, Geography teaches our pupils about the Earth's places, peoples, environments and societies. At the core of the subject lies the understanding of the relationships and impacts between people and the environment. It recognizes the great differences in cultures, political systems, economies, landscapes and environments across the world and the links between them.

Geography as a National Curriculum subject is taught to all students up to Year 9. After that, students can opt to study the subject at GCSE level.

The Geography Department's key objective is to inspire and engage students through creative and innovative lessons. The Geography curriculum enables students to acquire the key skills and knowledge necessary to understand the world in which we live. The topics studied encourage learners to become global citizens, giving them the opportunity to explore their place in the world, their values and their responsibilities to other people.
.
Develop student's skills in:

Higher-order thinking skills, such as analysis, interpretation and evaluation.

Making sense of a wide range of geographical information including maps and atlas'

Literacy such as extended writing pieces, the creation of reports and geographical investigations. Numeracy is developed through the manipulation of a wide range of data and graphical forms of data presentation.

Problem-solving and decision-making.
Geography is taught in four specialist rooms. All four rooms have interactive whiteboards and access to laptops, which have wireless connections to the school network and the internet.

Our Staff:
Mr C McGarry                           Mrs J Hitchmough
Director of Subject                     Teacher of Geography
Year 13 form tutor                      UCAS Co-ordinator

Miss S Moss                             Mr J Halewood
Teacher of Geography              Teacher of Geography
Year 8 Form Tutor                     Year 9 Form Tutor
Students have two lessons of 55/60 minutes each week.
The topics studied address both the key ideas and issues that face us all in a rapidly changing world. In Year 7, 8 and 9 students study five units. Each unit covers a range of human and physical processes. Assessment for learning encourages students to develop higher order thinking skills through independent and collaborative learning experiences.

Units in Year 7 – Exploring the UK, Poverty and Pennies (Development), Coasts, India and Tourism (Kenya and the UK).

Units in Year 8 – Rainforests, Rivers, The Energy Debate, Weather and Climate and Liverpool (fieldwork enquiry skills).

Units in Year 9 – Tectonic Hazards, Conflict, Globalisation, Population and a Geographical Issue Investigation of Development in Uganda.
Geography is very popular at GCSE which reflects the enthusiasm that our students have for the subject.

Our current GCSE students follow the new AQA Geography syllabus. This includes three components:

Unit 1 – Living with the Physical Environment: The Challenge of Natural Hazards, The Living World and Physical Landscapes of the UK.

Unit 2: Urban Challenges, The Changing Economic World and The Challenge of Resource Management.

Unit 3: Geographical Applications: Issue Evaluation and Fieldwork (exam questions based on two pieces of fieldwork – 1 physical and 1 human fieldwork question).

The final examinations: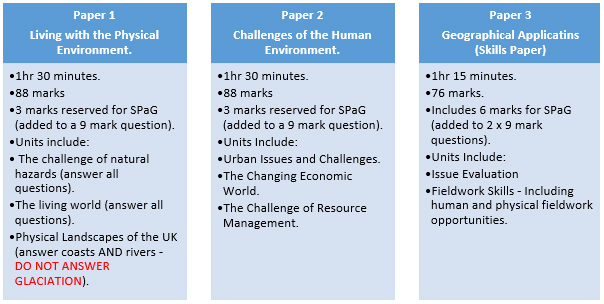 A wide range of additional support activities are provided for students to support them in their journey through to GCSE level.