School Closure - Arrangements and Protocols
Following the announcement by the Prime Minister, Broughton Hall will be closed from Tuesday 5th January until further notice.

We do not underestimate the significant burden that this will, once again, place on families at this uncertain time, and the difficulties it will present.

While our building may be closed, 'school' remains open. Remote learning and support will now take place, in line with the school's Blended/Remote Learning Policy.

Please note:

The senior leader with overarching responsibility for the quality and delivery of remote education, including that provision meets expectations for remote education is:

Mrs M Grant (deputy head), who is contactable at grantm@broughtonhall.com
How many hours remote learning should my child be doing each day?
The Government has asked schools to ensure that the remote education provided is equivalent in length to the core teaching pupils would receive in school and includes both recorded or live direct teaching time, and time for pupils to complete tasks and assignments independently. For secondary schools this should be 5 hours a day as a minimum.
At Broughton Hall
Pupils will continue to follow their usual daily timetable - lessons times remain in line with the 2020-21 school day
Pupils will be taught in line with our stated curriculum for the majority of lessons
Areas of the curriculum which are more difficult to deliver remoted - such as PE, Design and Music - have been adapted to ensure an appropriate and accessible curriculum remains in place
All MS Teams invitations and Class Charts work will be issued in good time, and no later than 8.45am on the day in question
Remote learning provision by Key Stage: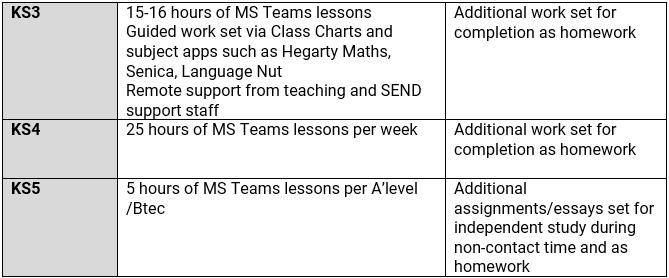 Sample timetable Yr. 9 - Teams lessons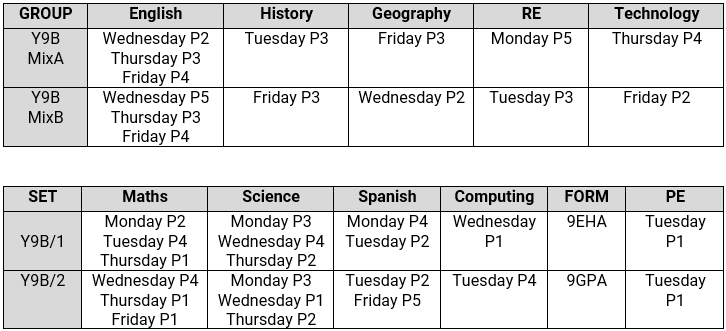 Expectation of Staff and Pupils
Expectations of Pupils
If a pupil is well enough to study, she is expected to attend scheduled MS Teams lessons, complete all work set for them and submit work completed for feedback. Pupils should attend MS Teams lessons, prepared to learn with all equipment charged and to hand.

Whether learning in school or remotely, pupils are expected to uphold the school's expectations around appearance, behaviour and the safe use of ICT.
Expectations of Staff
If they are well enough, staff are expected to teach/set and assess work as required. Staff will further alert Pupil Support if they have any attendance, academic or pastoral concerns about a pupil.

HoDs as ever, have oversight of the sufficiency, appropriateness and quality of curriculum delivery. They continue to meet regularly with colleagues, and drop into lessons on a regular basis.
SEND
The school recognises that pupils with SEND needs may find remote learning particularly challenging. To ensure success for all, the school will:
Amend worksheets to meet the needs of dyslexics or those requiring a larger font size
Prioritise the needs of send pupils without home access to a laptop
Timetable LSAs to attend MS Teams lessons/support sessions for pupils who are entitled to one to one support
Ensure the SEND dept. remains contactable by parents by phone/email
Post support materials and helpful links on the school website to support remote learning
Digital Access
The school's Blended/Remote Learning Policy assumes that pupils have access to a digital device and the internet at home. We recognise that this is not always the case, and will seek to make access to a school laptop/dongle available through the school's Digital Loan Scheme.

Pupils eligible for this scheme have been identified through the school's annual Digital Access Survey (last updated Jan 2021). Priority will be given in the first instance to meeting the needs of pupils who:
Do not having digital or online access
Have been identified by school with parent/carers as not engaging in remote learning
Have a SEND learning support plan (LSP)
Are being prepared for public examination in 2021 and 2022

Pupils who are given access to a school laptop/dongle are required to:
Treat all school property with due care and consideration
Comply with the school's IT Acceptable Use Agreement
Return equipment in good order to the school on the first day of reopening
The school reserves the right to withdraw this offer in the event that the above conditions are not met.
Accessing MS Teams lessons and Class Charts
A guide and video on how to access MS Teams lessons and further details on how to access Class Charts are available on the school website - Broughton Hall Catholic High School - Online Guidance
Subject specific questions
Please send a message to your child's class teacher directly via Edulink or school email in the first instance. Staff will be monitoring Edulink/emails on a daily basis, but we ask for your patience as staff look to balance their professional and personal responsibilities.
Forgotten Passwords/ problem with school loan ICT equipment
A new Help Desk has been set up to support pupils/parents having problems with their school email/Class Charts passwords, accessing Edulink or facing issuing using school issued loan ICT equipment - email helpdesk@broughtonhall.com for assistance.

Our technicians will be monitoring this inbox on a daily basis and will respond as soon as possible. If the password reset is requested by a parent/ carer they need to include the pupil's username in the request. Please note due to capacity, the school is unable to support technical issues relating to slow home internet or personal laptop/iPad issues.
What is happening with Parents' Evenings during school closure?
We will be continuing with parents' evenings usual 'virtual' appointments. Your child's Director of Learning will write to you in advance of the evening with details of how to make appointments via Edulink.
Public Examination Information Years 11,12,13
The Prime Minister announced on 4th January that it is not possible for all examinations to go ahead this summer and the Department for Education issued a press release about this on 6th January:

https://www.gov.uk/government/news/education-secretary-outlines-plans-to-support-young-people

Ofqual and the Department for Education began a two-week consultation on 15th January on possible arrangements for GCSEs, A levels as well as vocational and technical qualifications. If you wish to contribute to this consultation, please follow the link below:

Consultation on how GCSE, AS and A level grades should be awarded in summer 2021 - GOV.UK (www.gov.uk)

We are mindful of the Secretary of State's preference for teacher assessment to play its part. We are not starting from scratch: we have been considering different scenarios for some time and Ofqual has learned lessons from last summer. Please be assured we will approach this summer's CAGs with due diligence and professionalism, so that pupils can successfully progress on to the next stage in their lives. In the meantime, it is important that pupils in yrs. 11-13 continue to engage with education so they are best placed to make good progress this year.

Once further information is available parents and pupils will be informed. Any immediate questions in relation to public examinations should be forwarded to Ms S Connolly (Exams Officer) at connollys@broughtonhall.com
Pastoral Care and Support
Supporting our pupils through this difficult time matters to us as a school. Pastoral staff will be checking in on pupils, and supporting individuals who have additional needs. If you are worried about your child and would welcome support, please contact your child's Support Manager/HoY via Edulink or email during working hours.
Safeguarding
During this period of school closure, the school's "Safeguarding and Child Protection" Policy still applies, as does the Staff Code of Conduct and the IT Acceptable Use Agreement (Pupils and Staff).

Any online contact between pupils and staff must only take place through official school channels, which are:
Broughton Hall email addresses only
School Microsoft Teams chat or video conference (as outlined above)
Class Charts
Edulink
Any contact between pupils and staff through personal phones or email accounts, or any other third-party messaging software or video conferencing software (e.g. WhatsApp, Zoom, Skye) is strictly prohibited.
General questions/enquiries
please email admin@broughtonhall.com. This email address is monitored daily and your query will be forwarded to the most appropriate staff member available. We ask for your patience and understanding as questions are triaged. We will continue to post responses to Frequently Asked Questions on the school website.