Year 7 to 11 School Uniform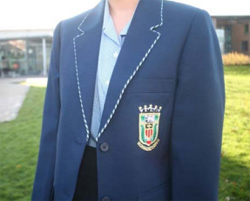 Fitted Blazer
with a coloured trim around the lapel, pale blue for years 7-9 and royal blue form years 10 & 11.
Cotton Blend Jumper
with embroided school badge.
Knife Pleat Skirt
with stitched down pleats at the yoke and reduced bulk under the fitted blazer. Skirts must be knee length.
Gingham Blouse
remains unchanged.