"Education is integral to the mission of the Church to proclaim the Good News. First and foremost every Catholic educational institution is a place to encounter the living God who in Jesus Christ reveals his transforming love and truth."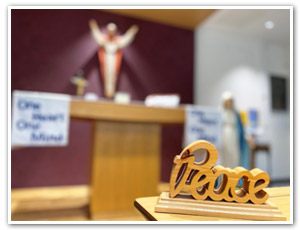 As a Catholic school Broughton Hall centres its mission on the person of Jesus Christ, and promotes the Gospel values throughout the school community and in all aspects of school life: spiritual, academic, pastoral, and personal. By proclaiming and living out the faith of the Catholic Church, we support each other in shared experiences of teaching and learning, prayer, worship and charity.

Our motto, 'One Heart, One Mind' recognises that everyone needs to feel accepted, loved and included, and that together we can achieve great things through Christ. Our Saviour taught that his people should be of "one heart and one mind" (Moses 7:18).

The chaplain provides a listening ear, and provide spiritual support for everyone in our school, including pupils, staff, and parents. Sometimes, however, it's also to just be a presence and reminder that no one has to be alone, that every young person is "valuable just because they are" - Fr. Craig Huxley.

Chaplaincy is about drawing on this example, 'accompanying' all members of the community, working with them and 'inviting' them to a fuller life in Christ, 'going with them' to where they are going and 'challenging' them to live the best lives they can.

The School Chaplain's role is central to all aspects of our Catholic life:
helping the school to develop as a faith community
supporting liturgy, prayer and the spiritual life of the school
encouraging our students, staff and parents to live out their faith in daily life
being accessible to all members of the school's community
leading students and adults in fundraising for charity
supporting the school as it seeks to live out its values and Mission Statement


The school's chapel is a haven of peace at the heart of our busy school community.
FAITH LIFE: DAY TO DAY
At Broughton Hall, Religious Education is a core subject, taken by all pupils, which follows diocesan guidelines in Key Stage 3, with a GSCE qualification in KS4. In Sixth Form, Spiritual and Religious Education (SRE) supports the students in the mature development of their faith and moral identity and is accompanied by opportunities for service within the school community.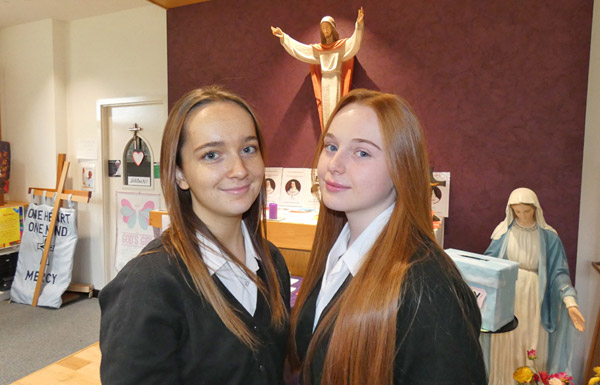 Students share in daily prayers and reflection with form tutors during morning form time, and with pastoral and senior staff or the chaplain during assemblies. Prayers and reflections respond to the liturgical season, encouraging students to recognise how their faith is informed by the life of the Church and by considering both national and world events, and issues such as the War in Ukraine, COP 26, Remembrance Day, Holocaust Memorial Day, democracy, inclusion and charity. Assemblies take place each week during form time, and assemblies are organised to mark special events, such as Mercy Day, Advent, Holy Week and Pentecost.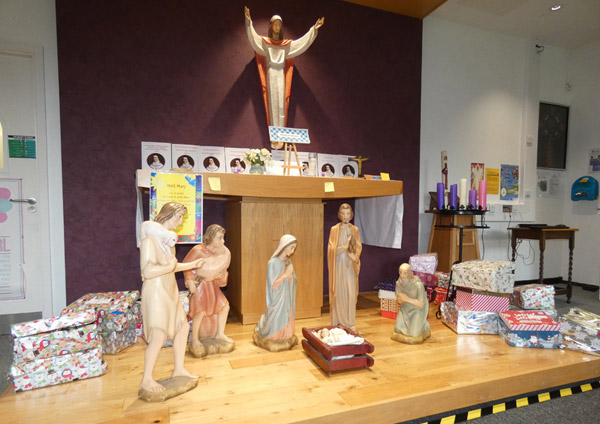 Seasonal Masses are organised through the school year for both staff and pupils. Special Masses for the wider school community are celebrated to welcome the new year 7, or for year 11/13 leavers. For all key liturgical events, the school is supported by local parish priests. Retreat events take place each year for Year's 7, 8 and 9. These events provide the opportunity to explore faith and other issues creatively and reflectively, encouraging personal growth and a sense of shared community. Pupils in year 8 are prepared for Confirmation by the chaplain, followed by a service of Confirmation in their home parish. In Years 10 and 12, students have the opportunity to act as a volunteer on the annual Lourdes pilgrimage organised by Animate.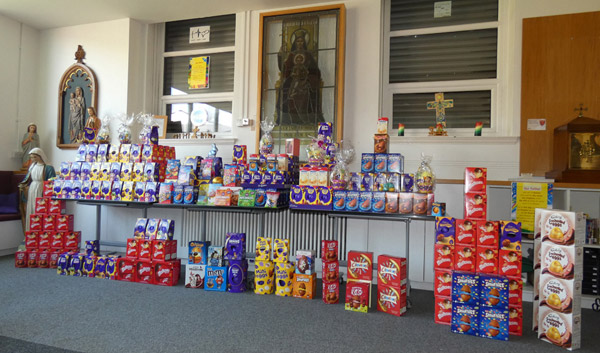 The chapel is open throughout the school day for prayer and reflection. The Chaplain regularly invites form groups to the school chapel, to complete an act of collective worship or to take part in reflective events and prayer opportunities. During Lent the Adoration of the Blessed Sacrament takes place on a Thursday afternoon in the school chapel and is led by Sister Savio from 2.45-3.45pm. At other times of the year the Just Like Us group, meets on a Thursday at 3.10pm in the chapel.

The school's charitable work is closely tied into the message of the Gospel and is accompanied by prayer and celebration. We respond to local and international need through prayer, assemblies and charity work. The mission of the Sisters of Mercy is promoted during the autumn term and in Lent the school particularly supports the work of Catholic charities such as Cafod, The Good Shepherd, and the Mercy Refuge in London.