Introduction
Music, once admitted to the soul, becomes a sort of spirit, and never dies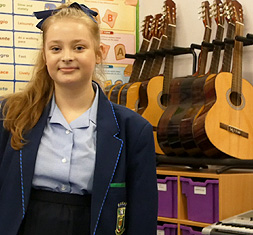 Music's significance in our lives and memories is undeniable. For many, it's an expressive outlet they can't be without. For some, it's a career choice that fulfils that most sought after of life aspirations: doing something one loves and being paid for it. Music's particular combination of emotion, discipline, knowledge and skill is special. Most people can't imagine their lives without music.

The Music department believes passionately that music belongs to all of us. We're committed to ensuring our young people have the opportunity to experience, explore and understand music through an enriching and challenging curriculum which empowers students as performers, creators and appreciators. Everything we do is motivated by helping your child be the best they can be.

Broughton Hall's KS3 Music curriculum is designed to nurture and celebrate each student's capacity for creativity, expression and mutual appreciation. We do this by exploring the wealth of musical heritage and opportunity in our home city, Liverpool, while understanding its place in and connections to the world stage. Our curriculum is underpinned by high expectations, expert teaching and the relentless pursuit of excellence shared by all good musicians. Through the key National Curriculum areas of performing, composing and listening, we focus on the fulfilment of each individual's musical potential. Carefully scaffolded, sequenced and varied activities build practical musical skills while extending, deepening and applying academic and contextual knowledge.

We encourage and empower students as performers, creators and appreciative audience members, building awareness of their own impact and the important contribution each individual makes to the whole. Through studying Music at Broughton Hall, confidence, awareness and proficiency builds. Our consideration of our locality's musical heritage makes us more mindful of our place in society and appreciative of the rich, multicultural society in which we live. The skills, attributes and knowledge we gain prepare us for lives which are, we hope, rich and rewarding, enabling us to contribute to our communities, elevate ourselves and others and take advantage of the many opportunities music presents us.
Our Aims:
Inspire our students through the provision of engaging and challenging musical experiences.
Equip students with the knowledge, understanding and skills required to perform, create and appreciate music.
Enrich students' lives through the power of music, raising their awareness of cultural contexts and maximising access for them personally and professionally, in the present and beyond.
Extra-curriculum
We are proud of the quality of our extra curricular provision, including our Music Tuition service, choirs and instrumental ensembles. Our students perform at numerous school and community events throughout the year, including concerts, competitions, services, community events and special occasions.
Staff
Ms S. Hayes - Head of Department
Mrs A. Harris - Vocals & Choir Leader
Miss J. Hynes - Vocals, Choir, Instrumental & Tech
Miss C. Jones - Piano Tutor
Mr C. Jones - Woodwind, Band Tutor
Mr R. McGrath - Drum Kit Tutor

Programme of Study KS3
Our Key Stage 3 curriculum is a platform for lifelong musical learning and engagement. At its heart is the knowledge and skill development necessary to engage with music in all its forms. Liverpool's position as a UNESCO World City of Music acts as the gateway, exploring our city's rich musical heritage and its international context, while developing sophistication in the following key aspects:
dimensions of music (pitch, duration, dynamics, tempo, timbre, texture, structure, harmony, notations).
listening with understanding and discrimination, informed by knowledge and appreciation of varying musical contexts.
practical expression in music, informed by contextual appreciation:
performing (with a focus on keyboard and vocal skills)
creating with expression, utilising the knowledge and skills gained from the wider music curriculum.
Programme of Study KS4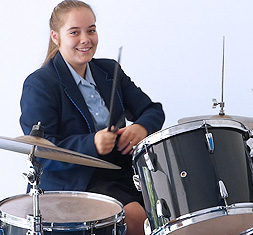 We currently offer the Pearson GCSE Music qualification at KS4. 60% of the course involves practical composition and performance skills. The remaining 40% focuses on the analysis of set studies and general listening skills across a range of musical genres.

Course Breakdown:
1: Performance 30%
Perform one solo and one ensemble piece on instrument/voice.
2: Composition 30%
Compose two pieces: one free choice, one in response to a set brief.
3: Listening Examination 40%
The compulsory set works studied for the listening exam are:
1.
Music for a While
, H. Purcell
2.
3rd Movement from Brandenburg Concerto no. 5
in D major, J. S. Bach
3. 1st Movement from Piano Sonata no. 8 in C minor
'Pathètique'
, L. Van Beethoven
4.
Killer Queen
from the album 'Sheer Heart Attack', Queen
5.
Main Title/Rebel Blockade Runner
(from the soundtrack to 'Star Wars Episode IV: A New Hope'), J. Williams
6.
Defying Gravity
(from the musical 'Wicked'), S. Schwarz
7.
Release
from the album 'Volume 2: Release', Afro Celt Sound System
8.
Samba Em Preludio
from the album 'Esperanza', Esperanza Spalding
Your daughter will know the high standards of the Music department and we are justly proud of our facilities and dedicated classroom and peripatetic teachers, who help our students achieve strong results. While extra curricular music, including instrumental or singing tuition, is a compulsory aspect of KS4 Music, prior experience is not essential: many of our students successfully achieve GCSE Music after starting these in year 10.
Musicians are encouraged to have a "can-do" attitude and become rounded individuals with a wide skill-set. This equips them well for further study and a range of careers, either in performing arts or beyond. Many top-achieving professionals have a musical background and Music GCSE students have gone on to succeed in a variety of professional and skilled careers.
KS4 Homework
Composition is set as homework at appropriate points in the course: students should spend at least 50 mins per week in MU2 when this is required. Throughout the year students should rehearse their chosen instrument/voice at least 20 minutes a day, 4 times a week. They should also expect to revise theory and analysis in preparation for key tests and exams.