Today Gavin Williamson Minister of Education delivered a speech in the House of Commons regarding GCSE and A level grading this summer. Below is a summary of his speech.

1. A-level students will get their results on 10 August, while GCSE pupils will get their grades on 12 August. These earlier dates will allow more time for students to appeal their grades, if they believe they are unfair.


2. Pupils will be able to appeal their grades at no additional cost and will have the chance to sit exams in the autumn if they are still unhappy with their marks.


3. Teachers will be able to base students' grades on a range of evidence, including mock exams, coursework, essays, in-class tests, and additional questions provided by the boards where schools feel these appropriate. This will be quality assured externally to make sure evidence is fairly used and equitable across schools.


4. Grades will have to be submitted to exam boards by 18 June, with quality assurance checks then taking place.


5. Teachers will be given guidance on how to make judgments before the Easter holidays.


6. Those studying for vocational and technical qualifications will also get teacher-assessed grades rather than having to sit exams.


We will endeavour to update pupils and parents regarding our school's process in a timely manner when we receive the additional guidance as suggested in the Education Ministers announcement.
Ofqual: Exams Consultation Decisions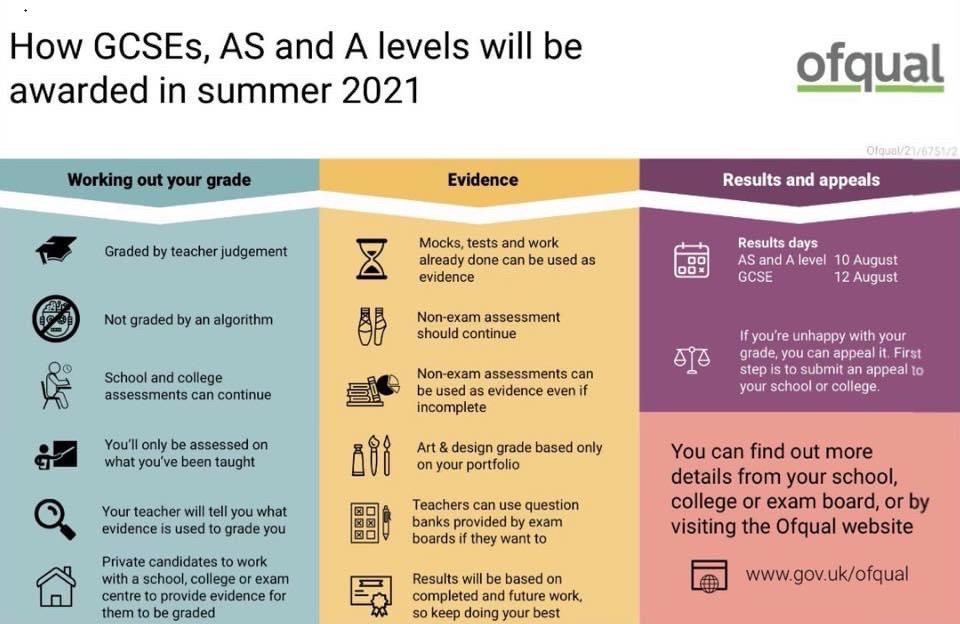 Yours Sincerely
Miss S Connolly
Assistant Head Teacher
Broughton Hall Catholic High School